Ask any interior professional and they would tell you that the easiest way to brighten up a boring place is with pop coloured accents. An impactful piece of pop art or a bright highlight in a neutral space is always a show-stopper for any room with a monochromatic décor. You can actually have a new color scheme, when you get bored with the old one, by just adding pops shades in various ways, without burning a hole in your pocket from the WorldofEk.com.

Brand introduction:
A business venture of TV producer Ektaa R. Kapoor in collaboration with Roposo, the World of EK is an e-commerce platform that's popular for buying handcrafted Indian products in contemporary ethnic wear, charm jewellery and décor items. In an endeavor to bring home the best of Indian arts and crafts, the platform curates a range of interesting items that are also endorsed and used by TV actors. The premium bed spread range at EK comes in various prints and patterns such as Utkarsha Mandala, Alankar, Bagh Journal, Gulistan, Jungle prints, Mughal Jaal and Rangeen Ikat.  And, there is a wide collection of Ayurveda-inspired brassware that includes artifacts and utensils with health benefits. Another popular segment here is the Evil Eye jewellery and ornaments that are created to attract good health, abundance, and keep negative energy at bay.

My experience with the brand:
 The bold tones are just the best fit when it comes to lifting an entire space and colours like light blue, mint green and lavender can give an instant boost to a warm winter decor. When I was shopping online at the WorldofEk I was automatically drawn towards the home décor and furnishings section to look for something fun for my personal space. And, I just couldn't enough of the range of colours and designs that were high on artistic yet understated asthetics.
Interstingly, Ek's bed linens are made of 100% Indian cotton and there breathable texture makes them a perfect companion for a sound, and peaceful sleep. Resisting all the other emptations on the portal, I zeroed down to purchase two cotton bed sheets and matching pillowcases to revamp my room with some India inspired designs. The first item I used was a multi-coloured cotton bed sheet with an amalgamation of ethnic motifs and contemporary design. It was a subtle and soft addition to my room, and added a positive vibe instantly. The second one was a rather bold king size multi-colour printed bedsheet set in cotton from the Kamal collection. An elegant and Indian style bed cover accentuated with natural dyes added a fresh touch and I simply loved the bright desi floral motifs on it.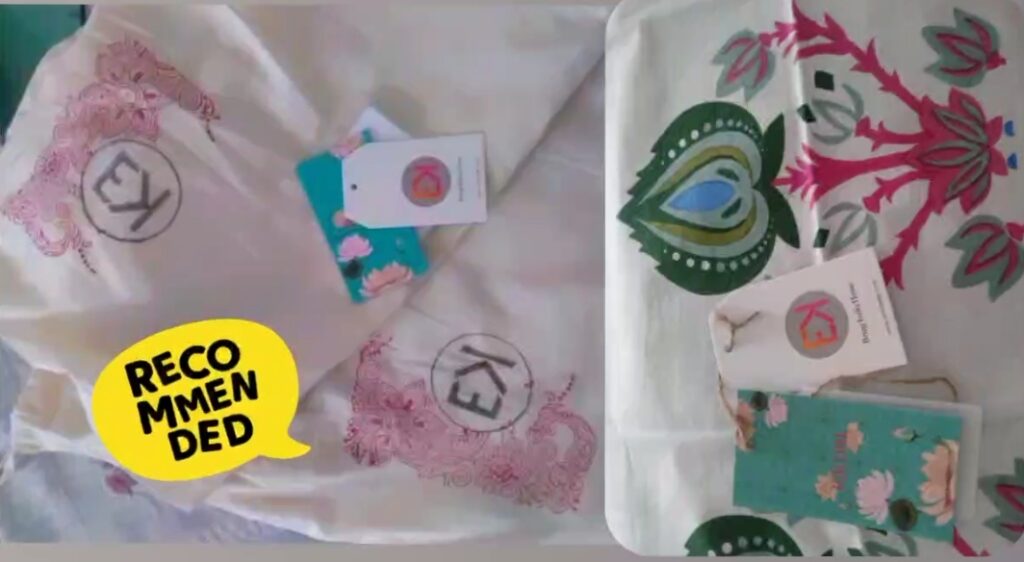 A very unique aspect that I liked about the products was packaging in environment-friendly cloth bags that can be reused multiple times. The best thing about these linens – economical, easy to wash and great way to break the monotony of your room on a slow day – after all, sometimes a new bed spread is enough to uplift your mood.  
(To reach us, connect at [email protected] )